Print the card

front wiring socket / screw terminals EVB/GE
Dimensions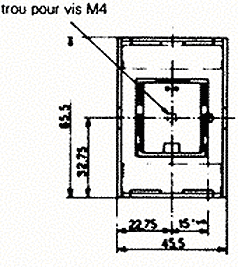 Assembly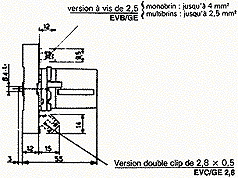 Technical features
* Mounting on symetrical or dissymetrical DIN tracks with adaptators G1.
* Connection : screw terminals for multiwires of 2.5 mm² dimension (up to 4 mm² in one wire).

Versions
EVB/GE socket is a front wiring socket with screw terminals for relays of 1800 and GE series.
Options
See detaile dindication regarding withdrawal in the technical support pages of this site.
Accessories
* DIN track adaptator G1
* Coding accessory (see details in our technical support pages).

Non-contractual document - characteristics to be confirmed before order
TEC AUTOMATISMES reserves the right to modify description and specifications without notice